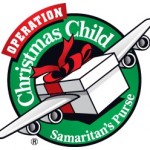 April Monthly Mission
Operation Christmas Child
Each year Cokesbury participates in Operation Christmas Child, a project of Samaritan's Purse, an international Christian relief and evangelism organization headed by Franklin Graham. Last year the Cokesbury UMC donated 109 shoeboxes, our highest number ever!
Donations will be part of our Packing Party held in November after a Sunday worship service. At the Packing Party, all of the donated items will be set up in the Family Life Center and you can participate in filling up a box or two, or more. The boxes will then be delivered to the North Charleston drop off location.
Since 1993, Operation Christmas Child has hand-delivered more than 94 million gift-filled shoe boxes to needy children in more than 130 countries. For many of these children, the simple shoe box will be the first gift they have ever received.
In 2012, Operation Christmas Child expects to collect and deliver the 100 millionth shoe box gift – a milestone reached after 20 years of packing, collecting, transporting and hand-delivering these simple gifts to suffering children around the globe. Shoeboxes offer much more than just physical items to make life more bearable. The gifts are a tangible demonstration of God's love, offering hope and reassurance.
Booklets are offered with the shoe box gifts, providing children with the opportunity to learn about God's love. Operation Christmas Child also offers a follow-up discipleship program called The Greatest Journey, helping children understand what it means to be a follower of Jesus Christ. Last year, one million children in 50 countries participated in The Greatest Journey.
Gift Ideas
TOYS
small cars, balls, dolls, stuffed animals, kazoos, harmonicas, yo-yos, jump ropes, small Etch A Sketch®, Slinky®, etc.
SCHOOL SUPPLIES
pens, pencils and sharpener, crayons or markers, stamps and ink pad sets, writing pads or paper, solar calculators, coloring and picture books, etc.
HYGIENE ITEMS
toothbrush, toothpaste, mild bar soap, comb, washcloth, etc.
OTHER
Hard candy and lollipops, mints, gum, T-shirts, socks, ball caps, sunglasses, hair clips, toy jewelry, watches, plastic shower curtains, gloves, underwear, Ziploc bags, etc.
Do Not Include:
Used or damaged items; war-related items such as toy guns, knives or military figures; chocolate or food; liquids or lotions; medications or vitamins; breakable items such as snowglobes or glass containers; aerosol cans