We welcome you to Cokesbury during this Holy Season in the life of the church.
We have many opportunities for worship that will greatly enhance your celebration of the resurrection of Jesus Christ.
Maundy Thursday (March 29) at 7pm
We will gather for worship that will include Holy Communion.  Rev. Megan Gray and her husband Rev. Brad Gray will be leading in worship and sharing how we can move beyond being an ally of Jesus, to one of Jesus' accomplices.
Good Friday March 30 at 8pm
We will be gathering at St. Andrews UMC (3225 Ashley River Rd.) for a very meaningful Tennebrae worship. Our choirs have joined together to bring us beautiful music.  This is a time of darkness and reflection as we gaze upon Jesus on the cross.
Saturday  March 31 10am-12pm
Community Egg Hunt at Goodwin Elementary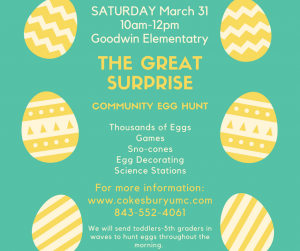 Sunday April 1 Easter Sunday
Join us at 9:30am for an Easter Egg Hunt in our very own courtyard and Easter breakfast.
At 10:30am we  will celebrate the resurrection of Jesus Christ in worship.