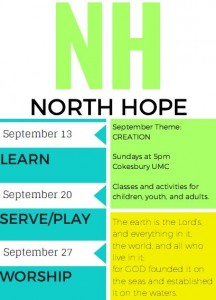 Join us on Sunday evenings throughout the fall as we gather as a community of believers to live out our faith in new and exciting ways.
Starting this fall North Hope is for everyone!
Together we will: LEARN-SERVE-PLAY-WORSHIP
LEARN
Our children and youth will break up into age appropriate groups and together they will read scripture, participate in activities, and have discussions that support our monthly theme.  Adults will learn new skills so that they can nurture the faith of their families.  You will leave prepared to reinforce the monthly theme at home.
SERVE
WE will participate in an inter-generational mission project centered on our monthly theme.
PLAY
Enjoy this opportunity to HAVE FUN together!
WORSHIP
Each month we will gather for worship led by our children and youth.  This will be a time to express our love of God through all we have learned throughout the month.
A snack supper will be provided throughout September.